Welcome to Yogaveda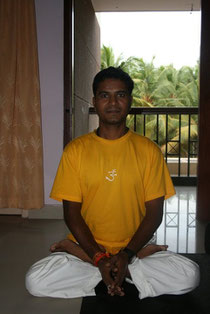 Welcome to my Yogaveda Page.
My name is Sreekumar, nick name is Kannan from India, South part of India known as Kerala  (God´s Own Country) why people called my State as "God´s Own Country" because of  the beautiful Landscapes, Beaches, Coconut trees, Lakes, Backwater, Houseboats and many more to see and to experience. I started my Yogic life in the age of 26. Childhood days onwards we Indians go to temple, partcipating temple ceremonies, take Fasting for special holy days by that we get some inborn feelings in spiritual life. 
Somehow, i came to know  about "Swami Sivananda" and "Swami VishnuDevananda´s" Ashram, his Yogic Life, his paths and I came to read some of his spiritual Books. I went to his Ashram and stayed there as a Karma Yogi.
After some months i decided to join "Yoga Teachers Training Course" and this course will conduct yearly once in Kerala Ashram. Swami Vishnudevananda's ashram is located in the middle of the forest near to one of the biggest Dam, located outskirt from the city no Vehicle airhorns, no pollutions, fresh air, big silence, birds singing sounds, wandering karma yogis and yoginis, totally its a perfect place for people those who loves Meditaton, Chanting and perfect place for practicing and learning yoga also its a good opportunity to learn and to develop our spiritual life.
Now I am living in Stuttgart, Deutschland, working as a freelance yoga teacher for a Swiss Based Fitness Club named " ELEMENTS" it's part of Migros Group, "THALAMUS" Heilpraktikerschule and Therapiezentrum", Stuttgart,  "Tanzstelle" Dance Schule, Stuttgart, Adam Barner Fitness Club, Personal Training, Workshop conducting in Daimler, Yoga course for employees in "TTS Tool-tec Company Gmbh", Kids Yoga class Workshop in Swiss International School-Stuttgart, Yoga Retreats conducting to Kerala. Golden Triangle Trip (GT-Trip: Delhi,Agra, Jaipur- Pickup and drop, food and Accommodation and sightseeings with English speaking Tour guide) to the Northern part of India.
Hari Om tatsat.